RULZ Fitness – Our goal is to keep you healthy, informed and inspired and we hope you will visit our website often.  Please join our email list so that we can keep you apprised of the many wonderful activities we have in store.
eNews:
Click Here for latest RF eNews!!
Aug. 6th – Free Open House 10am – Click Here!
RULZ Fitness Business Services:  Don't forget to check us out for ladies night, conferences, team building and workshop/retreat needs! We are here to help your female team members restore, rejuvenate and renew their own personal fitness journey to increase a positive lifestyle. Send inquiries to: bellydance@rulzfitness.com
SPACE RENTAL at RULZ Fitness:  If you are interested in having a intimate group gathering in a unique environment, allow us to accommodate your needs. We offer a  facility that is beautiful, practical and functional. Send inquiries to: bellydance@rulzfitness.com
All About Fitness Workshop Series (90 minutes)
Various Saturday's at 10:30am – 12pm
8 Week Workshop Series ($15 each class)
August 12 & 19; September 2, 9, 16, 23, 30; Oct. 14
Sign up early-bird for all 8 classes & pay only $96 Purchase Here
Or purchase Single Ticket $15 Purchase Here
Sat. July 29th – Love Your Body MOVEment 10:30am $15 – 9o mins
(Tickets now Available!)
Save the dates:
August 5th Let's Draw Henna!  Tickets Now Available!
Aug 6th – Free Open House 10am Tickets Now Available!
August 26th The Wish Workshop Tickets Now Available!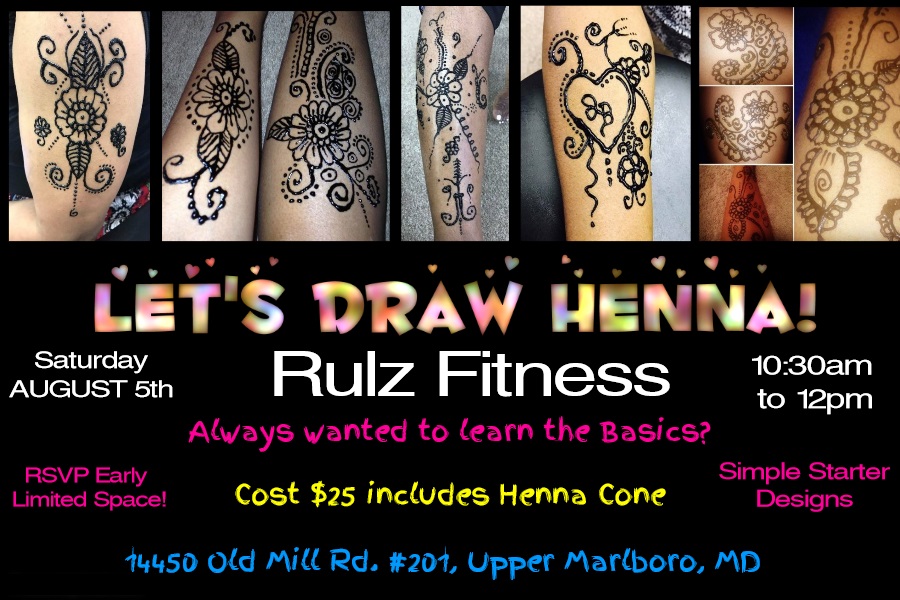 Contact Us for more details.
Rulz Fitness is located:
14450 Old Mill Road #201
Upper Marlboro, MD
(202) 596-RULZ (7859)   *  www.rulzfitness.com